What's happening in the UK – Despite being the first month since February 2020 with no enforced public COVID restrictions, August remained somewhat slow compared to prior months in 2021. This was somewhat surprising, especially considering the release of a report towards the end of the month finding that confidence in UK business is at a 4-year high. Only 58,218 new companies were formed this month, paling in comparison to even last month's smaller 58,903.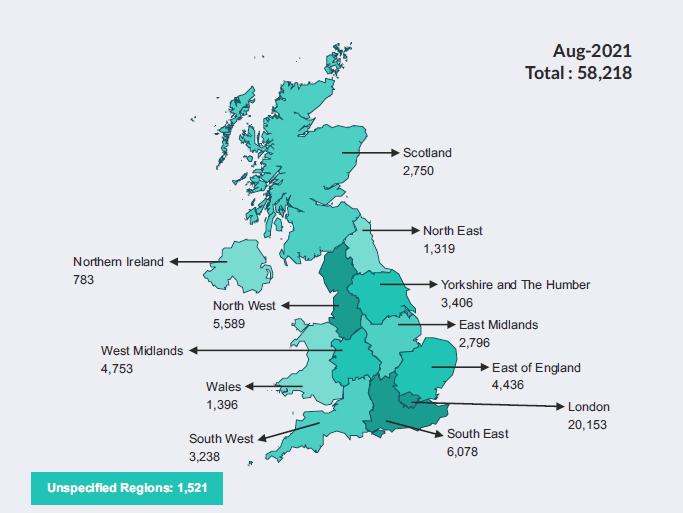 However, there may be good reasons for this. It could be that the end of the furlough scheme in September is particularly weighing on the minds of entrepreneurs everywhere, or perhaps the recent revelation of widespread COVID loan fraud has left banks particularly weary of lending to newly formed companies. Having said this, both filed CCJs and charges registered were also reduced this month, with 6,949 and 8,361 registered, respectively.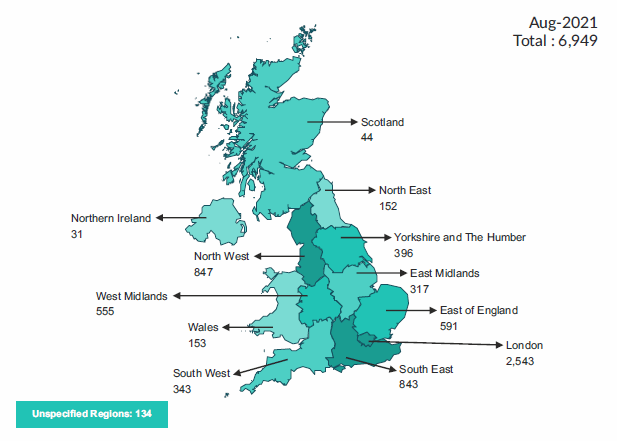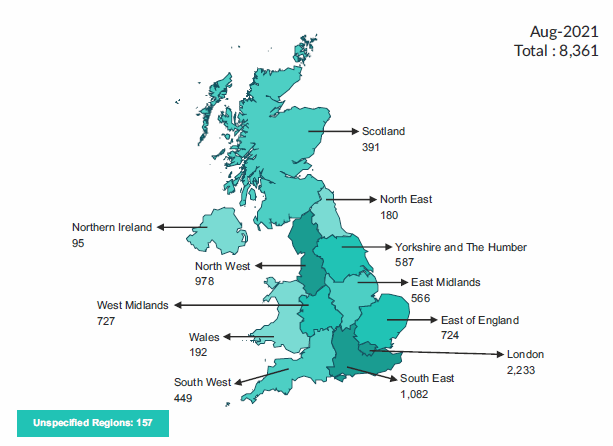 As mentioned earlier, the massively helpful furlough scheme is due to come to an end on the 30th of September. This has sparked some worry, even at major businesses providing a ubiquitous public service such as British Airways. Air travel was hit especially hard during the pandemic, with the chopping and changing of travel restrictions, making it incredibly difficult for airlines to assign staff to flights and estimate properly and account for turnover. Due to the end of furlough, wage costs will significantly increase for companies such as BA, meaning the price of air travel may be about to rise for passengers. Despite receiving more than £7 bn in loans from the government, the air travel industry still made huge losses over the last year, with IAG – the company that owns BA, Aer Lingus and Iberia – by itself losing over £2bn in the previous six months alone.
The air travel industry was not the only casualty of changes in consumer habits. Although this change was forecasted well before COVID ran through the nation, the shift in shopping habits and retail stores has merely been exacerbated by the COVID crisis. The increase in purchasing goods online has led to the collapse of more than 83% of department stores since BHS collapsed back in 2016. Back then, the largest UK department store chains, including BHS and Debenhams, owned 467 stores. That number is now down to 79 and is still shrinking due to consumers' reluctance to re-enter shops rather than shop online. Unsurprisingly, no new brands have stepped in to take their place, resulting in huge lots left totally unused. This has created headaches for landlords across the nation, who now have to decide what to do with such a huge space that is quickly becoming totally redundant. This is especially troubling in smaller towns, as at least in big cities, there's always a Premier Inn or Travelodge looking to expand into some new space. A new type of thinking may be required to start making these spaces profitable again.
Alongside a lack of customers damaging UK businesses, there seems to be a national shortage of staff to fill job vacancies. Similar to the shortage being experienced by the US, the UK is experiencing some of the worst staff shortages in decades. This is partly fueled by the emigration of overseas workers back to their home countries due to COVID, but it also seems to be due to the reluctance of British workers to take their place. This isn't hard to see why. Despite recent increases, minimum wage continually struggles to keep in line with inflation, and with average housing prices hitting an all-time high this year, it's unsurprising that many adult UK workers are reluctant to work for £8.91 per hour. This may prompt drastic changes in payment and employee benefits to entice people to take up these roles.
Although they experienced a slight slump over the summer months, things in the stock market seem to be finally recovering, especially in the crypto space. Crackdowns on bitcoin usage in China, as well as a lack of endorsement from the widely regarded 'crypto-king' Elon Musk, meant that the coin plummeted in value. The coin was worth a mere £21,000 per token in July, down from its massive surge of £45,000 in the middle of April, causing substantial financial losses for those with reserved seats on the crypto train. However, the digital currency has finally regained some of its lost value, with prices hitting over £36,000 again this August. This could be partly due to the recent interest in Non-fungible tokens as well as the metaverse, both of which are heavily attached to cryptocurrency as a means of currency.
Unsurprisingly, the UK government's borrowing has drastically increased over the past few years, hitting over £40bn per month at the start of 2020. This increased the total national debt to over £2.2 trillion, 98.8% of GDP, but July and August saw a significant reduction in this monthly borrowing, down to a mere £10.4 billion. With the abolition of furlough, this number will surely decrease further going into September and October, but what will this mean for UK businesses who have relied on such a scheme for so long? This, combined with the worst staff shortages seen in decades, may mean that winter proves to be a tricky time for the UK economy as a whole.
---
Related Articles